The repair and adjustment TC involves checking, repair, adjustment or modification of any fixed component, mobile and / or accessories of all kinds of groups punching, matriceria and even machine components regardless of make and model.
Testing
Review of all elements, backtesting (measurements, braces, screw, etc.)
Repair
Replacing anything that interferes with the proper functioning of the group, therefore wear and breakage.
Adjustment
Groups adjust for proper operation by changing heights, tours, etc.
Modification
We studied the possibility of modifications and changes punching groups and dies, making new elements and / or modifying existing ones.
FILING OF PUNCHES
As a general norm, it's not recomended sharpening punches more than 0,10 mm. And it would be optimal in soft rectify feeds (Z) of between 0,01 Y 0,02 mm.
These parameters indicate proper maintenance of the punches.
For punches with special coatings: DUR-TiN, DUR-ALUM,DUR-INOX,DUR-EXTREM & DUR-EXTREM PLUS and use the same indicators; and depending on the machine used, rectifying the highest possible grinding wheel speed and progress between 2.500 Y 4.000 mm / min.
Once you have done the sharp punch, check that the perimeter zone of the cut has been completely clean and no galling by adhesion of particles punched out material,
GRINDING DIES
Keeping live dies cut, It will extend the life of the punches, therefore they need not be pressing the sheet before being cut, burrs are avoided, excessive noise and correct cutting quality will be left.
They serve the same parameters grindstone, advances and passes both the punch and the matrix; and before you give for good sharpening matrix, check that the inside of the perimeter cut, have not trapped particles adhered sheet, who will rub with puzon to start work again.
Avoid heating parts, always using a suitable coolant. The energy produced by the friction of the wheel with steel, will these have been slightly magnetized; demagnetize tools before starting work.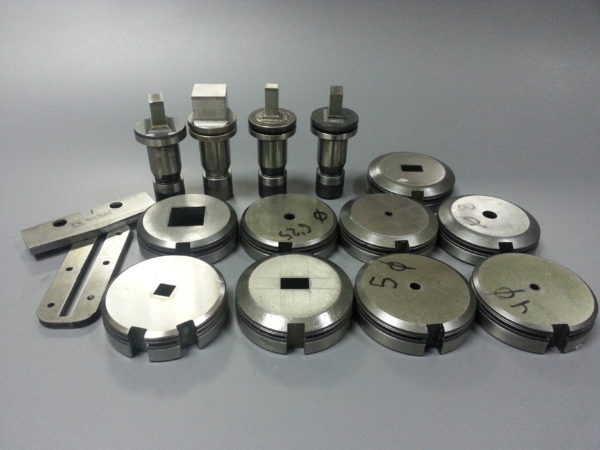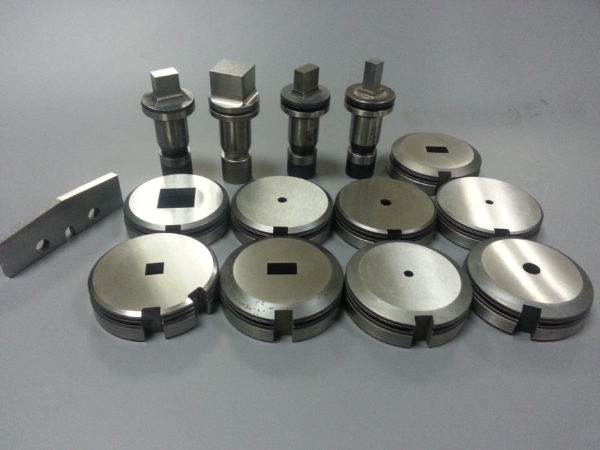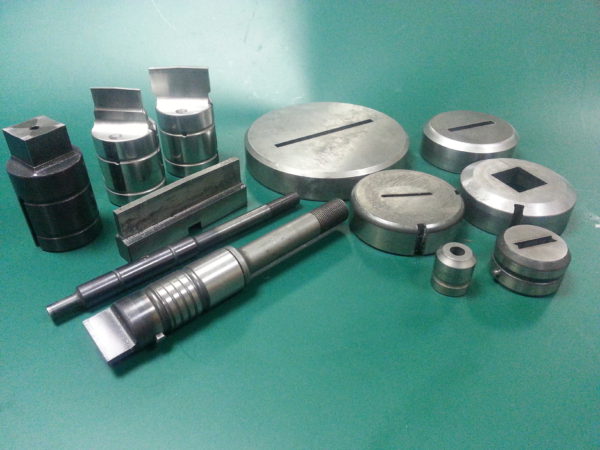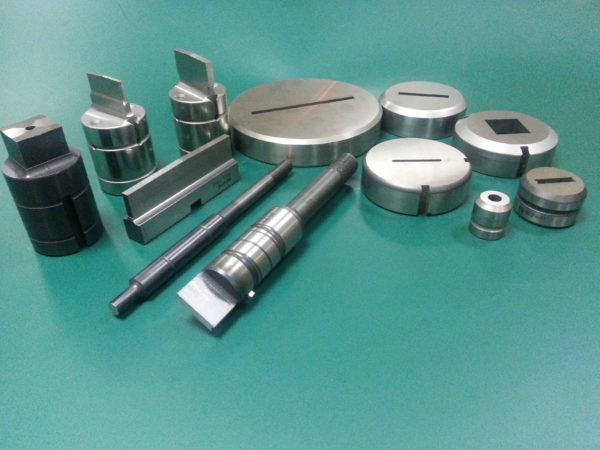 DUR-TiN
– COLOR : Gold yellow
– APPLICATIONS: General
– PROPERTIES: Reduces abrasion and adhesion.
DUR-ALUM
– COLOR: black gray
– APPLICATIONS: Aluminios, brass and derivatives
– PROPERTIES: Reduced adhesive wear.
Low friction coefficient.
Good sliding properties.
DUR-INOX
– COLOR : violet gray
– APPLICATIONS: Fe, galvanized, Ac. stainless
– PROPERTIES: optimized relationship between hardness and compressive residual stress.
wear uniform.
Good sliding properties.
DUR-EXTREME
– COLOR: Bluish gray
– APPLICATIONS: General; Recommended for Ac. Stainless.
– PROPERTIES: Very high resistance to wear and excellent hot hardness.
Very good stability to thermal shock.
Speed ​​considerably higher cutting.
DUR-EXTREM PLUS
– COLOR: Chrome
– APPLICATIONS: General; particularly suitable for Ac. Stainless.
– PROPERTIES: The surface hardness higher.
Less likely to heat.
Greater protection particularly against the edges start and
crack propagation.
You can prolong the life of the punch up 100%